Tomorrow IBM Impact 2012 will open at Palazio-Venetian: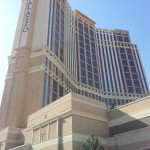 Many sessions are planned again. I remember the last time I came at IBM Impact it was in 2008 and the main subject was SOA with the IBM WebSphere ESB, now the focus is much more on cloud.
Sessions around IBM PureSystems (or on developerWorks  IBM PureSystems) with its two flavor IBM PureFlex System and IBM PureApplication System. An IBM PureSystem Center has been created and contains a number of solutions for these two brand new IBM Systems.
Talk to you soon.